Spiders are the ultimate predators and will grab any opportunity to feast. It is common to see a web full of tiny bugs and insects, some half-devoured and others waiting to be feasted upon. 
Some spiders store food to feed on at a later time. What happens though when they run out of food?
How long can a spider live without food?
Some can survive quite a while without food. One of the reasons for this is that spiders have a very low metabolism for their size meaning they don't need a lot of energy to sustain life. For example, house spiders can live for four to eight weeks without food. Tarantulas on the other hand have been able to live for more than two years.

This article aims to answer questions about the diets of these arachnids as well as just how long they can survive without a meal.
What Do Spiders Eat?
The Horror genre often depicts spiders as ferocious predators with giant mouthparts, even making snacks of humans.
Luckily, spiders don't consider humans a food source. (Phew!)
Spiders prey on anything small enough to get stuck in their webs. However, not all spiders are web-bound, as some capture prey in different ways. 
While insects form a great part of a spider diet, larger spiders can eat crickets, frogs, lizards, grasshoppers, and even birds. 
The spider diet also depends greatly on the type of spider species, as different species of spiders also prey on different creatures. Tangle-web spiders are specialist feeders, while orb and sheet-tangle web spiders are more generalist feeders. 
Below are a few examples of spiders and their diets.
House Spiders
As the name suggests these spiders which are squatting at your home generally spin webs and will take care of small insects such as flies, moths, and mosquitoes. Funny enough, house spiders are considered "clean insects" as they take care of other crawling intruders in your home.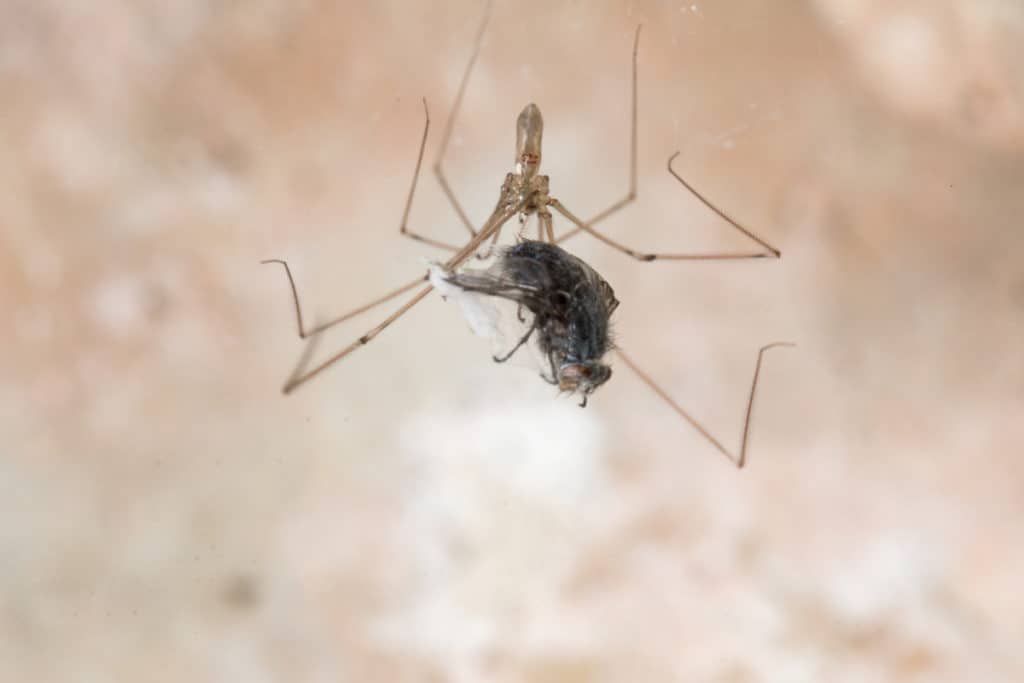 Hunting Spiders
Hunting spiders mostly focus on bulkier "foods" such as crickets, beetles, and grasshoppers. Huntsman spiders have even been reported feeding on lizards, and frogs. They generally hide, are well camouflaged, and attack when their prey is nearby.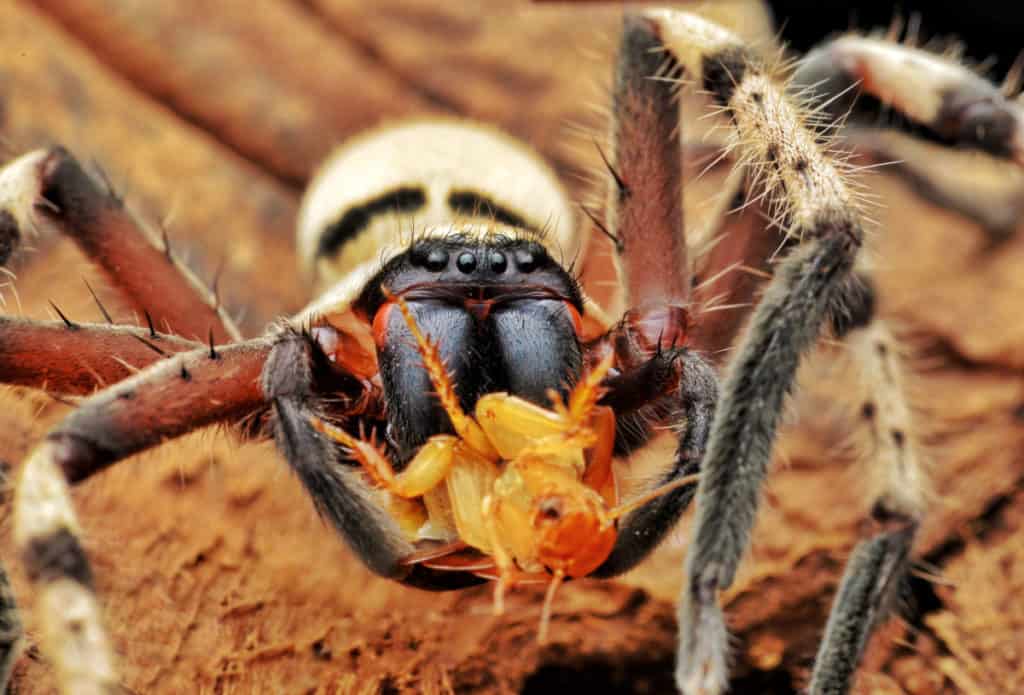 Bagheera Kiplingi: A Vegetarian Jumping Spider
While almost all spiders are ferocious predators and feed on insects, this jumping spider is the world's only mostly vegetarian spider.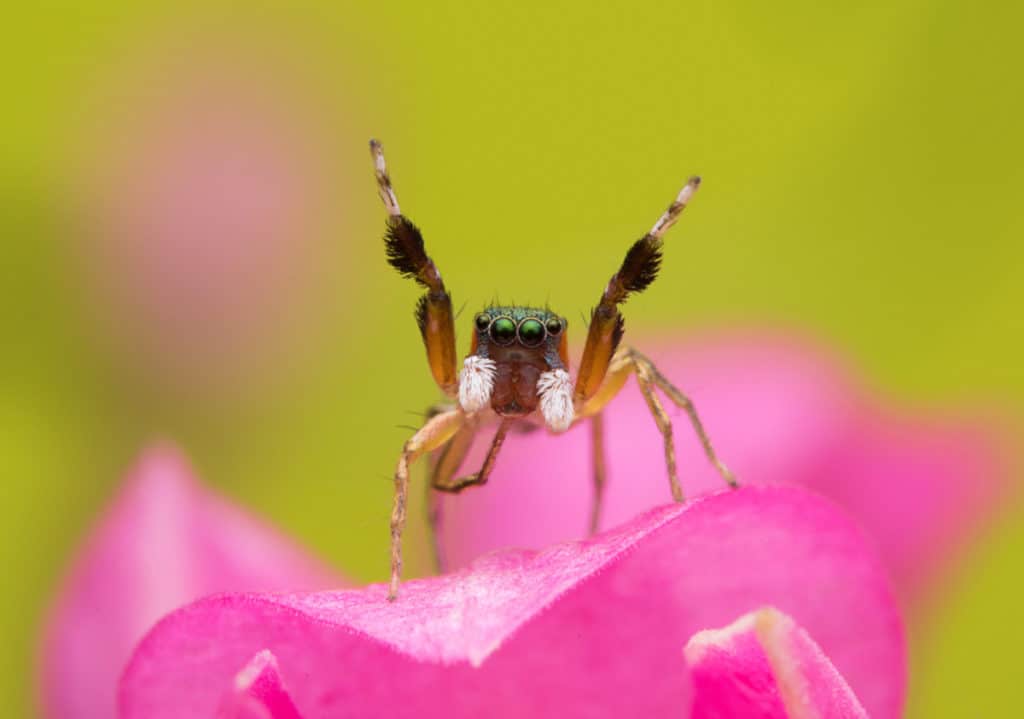 These spiders live in Acacia trees occupied by ants as these trees grow Beltian bodies when ants are around.
A Beltian body is a detachable tip rich in lipids, sugars, and proteins. Some studies show that this makes up 91% of the spider's diet in Mexico and 60% in Mexico.
These jumping spiders occasionally also drink nectar and will sometimes have a treat by consuming ant larvae and flies. 
We do have a comprehensive article detailing the diets of a bunch of different spiders if you are interested. The article is called, What Do Spiders Eat?
How Often Do Spiders Eat?
A researcher in Arachnology at the Queensland Museum suggests that the amount of time a spider would eat depends on what the spider consumed last. He suggests that if a snack was nutrient-dense, the spider would not have to eat so soon again. Small prey will fuel spiders for a few days only.

Hunting puts spiders at risk of predation, so they will want to get the largest amount of nutrients per meal. 

How Much Does A Spider Eat?
Spiders play a crucial role in keeping balance in the ecosystem. These eight-legged crawling creatures have a rather healthy appetite. The quantity of food eaten by spiders is quite baffling.
A spider meal specialist from the University in Basel in Switzerland did a study to estimate the number of food spiders eat per annum. The results are fascinating. An estimated 25 million metric tons of spiders eat between 300 and 800 million metric tons of food per year. This almost compares to the amount of meat and fish humans eat. 
Do Spiders Eat A Variety Of Prey? 
Most spiders thrive on a variety of different prey species, but some spiders are specialists and focus on specific species of prey.

Most spiders want to maximize energy intake which is done by consuming high-quality prey or by mixing prey types.

Two jumping spider species: Evarcha Culicivora, and Paracyrba Wanlessi, prefer mosquitoes above any other prey items while crab spiders that are found on flowers in gardens, feast on bees, flies, and butterflies.

Crab spiders can also benefit farming as they also eat mites and other agricultural pests.

Do Spiders Need Food And Water To Survive?
Spiders are cold-blooded, so their body size will give a good indication of their metabolism.

It is suggested that spiders have a metabolism of about 50% the speed of other creatures their size. This means that a cricket and a spider could be the same size, but the cricket would have to eat double the amount of food required by the spider.

The smaller the spider, the less frequent they need to eat. However, one needs to take into consideration that eating meat also provides more energy than eating a plant-based diet, so spiders do not have to eat as often as a result.

Spinning a web might require more energy, but the spider can eat the web and gain back some of the protein.  
When it comes to water requirements, various factors come into play. Spiders mostly get their water requirements through the food they eat, but this does not mean that you will never see them drink water.

People with pet spiders have reported cases of spiders not eating for long periods of time. Pet tarantula spiders may stop eating for months, especially when approaching a molt. If the spider is plump and active, there is little reason for concern.
Which Species Of Spiders Can Live The Longest Without Food?
The amount of time a spider will survive without food will of course depend on a variety of factors.
Some sources claim that some tarantula spiders can survive up to two years without eating. In an experiment, a spider wasn't fed but provided with water only for longer than two years. It lived for two years, nine months, and 19 days. However, finding proper scientific evidence verifying this suggestion has proven difficult.

Brown recluse spiders have been reported living up to 10 months without food when in a container without food or water.

A spider trapped under a cup for example may live for much longer than you would expect, taking oxygen requirements and the size of the spider into account. 
Interested in finding out how long spiders can live? Check out this article we have written, How Long Do Spiders Live?
Seasonal Changes In Spider Eating Patterns
Another way to go without food could be to hibernate in winter. While some spiders die as soon as the cold weather and allow the next generation to continue, others take a different approach – they hibernate.

Whether spiders hibernate through cold winter periods or not will depend on the species. Long-lived species such as tarantulas and fishing spiders choose to hibernate. Their bodies are capable of producing a chemical that slows down their metabolism, so it won't be necessary to consume food during this period.

Those that don't hibernate generally lay eggs in autumn to prepare the next generation as there is much less food available in winter, especially in places with colder temperatures. 
How Long Do Spiders Keep Insects In Their Web Before They Eat Them? 
The web-based hunters will spin a web to trap prey, which they then detect through vibrations on the web. These spiders generally have bad eyesight.
The amount of time a spider will keep its prey in the web before eating it will again depend on the spider species.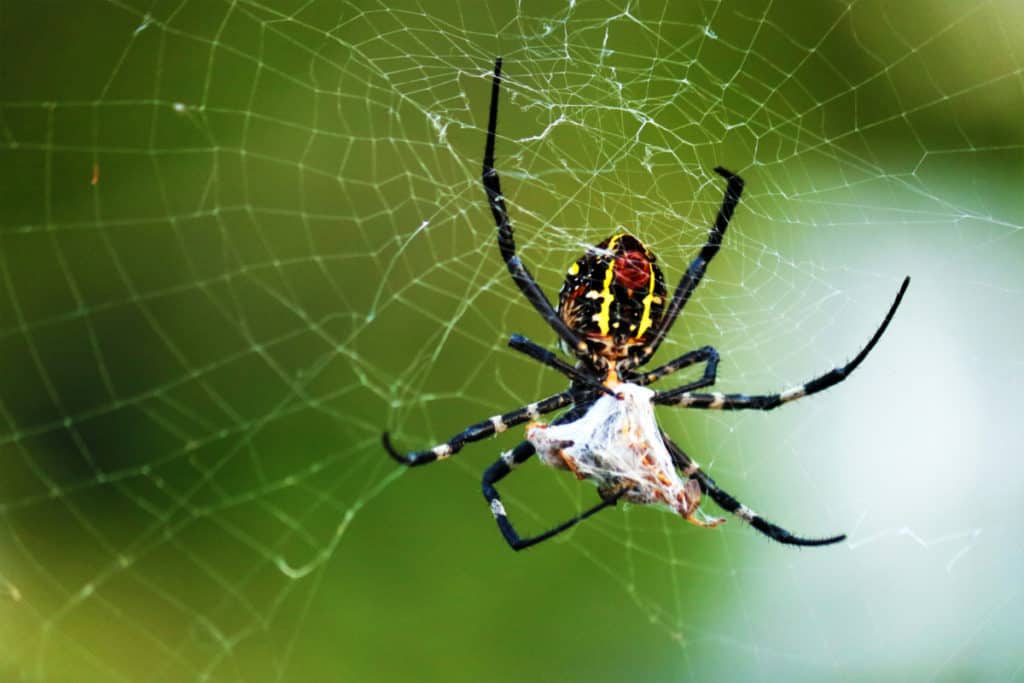 If a spider is hungry it might start eating the prey sooner, but in many cases, spiders will wrap the prey in silk and keep them for later.
Spiders will inject a type of venom and use digestive fluid to help the digestion process. This venom is toxic to their prey and will then allow the spider to ingest the liquefied prey.
Contrary to what is depicted in movies, spiders do not live on the juices or blood of insects. Spiders often discard the leftovers in a little ball, and oftentimes wings and legs are not eaten.
Spiders might be frightening, but very few of them pose any danger to humans, and will not bite if not threatened. 
Ever wondered how spiders suck up the juices of their prey? Wonder no more, check out this article we have written, Do Spiders Have Tongues?

The Wrap Up
Although spiders come across as savage hunters that will eat anything that passes them, this is far from the truth.
Depending on the species, climate, and food available, some spiders can live up to 24 months with only water.

It is common for a spider to stop eating before they begin molting, as well as during times of hibernation.

As always with the animal kingdom, each species will differ, along with the conditions that they are exposed to.
Sources
https://www.burkemuseum.org/collections-and-research/biology/arachnology-and-entomology/spider-myths/myth-spiders-only-suck
https://infinitespider.com/how-spiders-eat/
https://brownreclusesolutions.com/faqs/
https://www.thenewstribe.io/2012/07/12/can-you-live-2-years-without-eating/
https://www.giantspiders.com/captive-care/food-water/
https://www.reddit.com/r/askscience/comments/zxp1j/how_do_house_spider_survive_on_little_to_nothing/
https://www.researchgate.net/publication/202001248_Prey_choice_and_spider_fitness
https://www.quora.com/How-often-do-spiders-living-in-your-house-eat
https://www.scienceabc.com/nature/animals/what-do-spiders-eat.html#:~:text=Hunting%20spiders%20are%20a%20more,feed%20on%20lizards%20and%20frogs.